I have been struggling with my internet connection trying to upload pictures and videos from the Creator's Camp today, but I have a few things to show you.
Day 1 started off with us all arriving at EA at around 8:30 am. The walk from the hotel was less than a mile. The weather was gorgeous the entire week.
We stayed at the beautiful Hotel Sofitel.
To show how close we were, I stood on the sidewalk and took a picture of EA, which is the building across the street from where I am standing...
And then, to my right, you can see the hotel.
And here we are. HELLO, EA!!!
Walking into the front lobby.
Inside the front entrance.
Yup, there's me.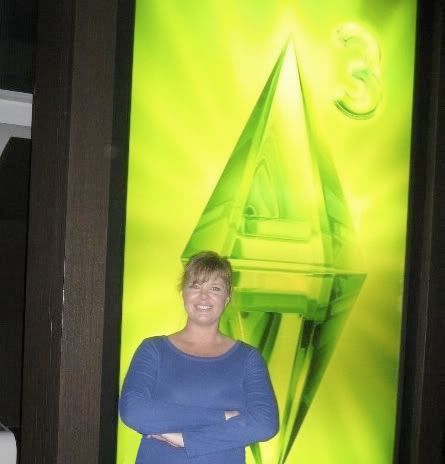 What a sweet place to work. There are game stations everywhere. EA, are you hiring??
Before the demos (and before all cameras had to be shut off), we were taken on a tour of the EA campus. A film crew was with us.
Roxanne from Simcredible:
There's Kate from Parsimonious in the hat
A few random shots of the campus (it's HUGE!)
The building has a gym, a basketball court, a STARBUCKS!
A little history of EA, showcased inside one of the buildings
The Road Rash Ducati
The walls of one hallway is covered in platinum game disks. This is the Sims 2 one, at 5 million sold, March 2005:
Three of my machinima comrades,
TheSidDog
,
Eggzie
, and
Decorgal
, just before going in to see the demos. Not pictured:
Tweety
, from Poland. Oh, and me.
Setting up for the demos, and time to turn the cameras OFF. That's Ben Bell, the Executive Producer for Sims 3, and Sim Guru Drea.
After demos, we had lunch, then went up to the game labs to begin work. The builders and clothing designers were mostly in the "Brain Training" room, and the machinima artists and bloggers were in the next room. It was FREEZING inside. I was on a computer that was sitting between two desks, so I was straddling the legs of both, and my left foot was up against the harddrive. I had a loose cable that wouldn't let me connect, and my game wouldn't launch. I called my computer "Murphy" because everything that could go wrong
did
, and I got a much later start than the others!
Later that night, we all met down in the lounge at the Sofitel.